RATH Group's commitment to sustainability
RATH attaches great importance to sustainable, long-term corporate management. This means that our strategic decision-making and operational management are influenced equally by ecological, economic and social factors: sustainable management, environmental protection and responsibility for people are among our core values.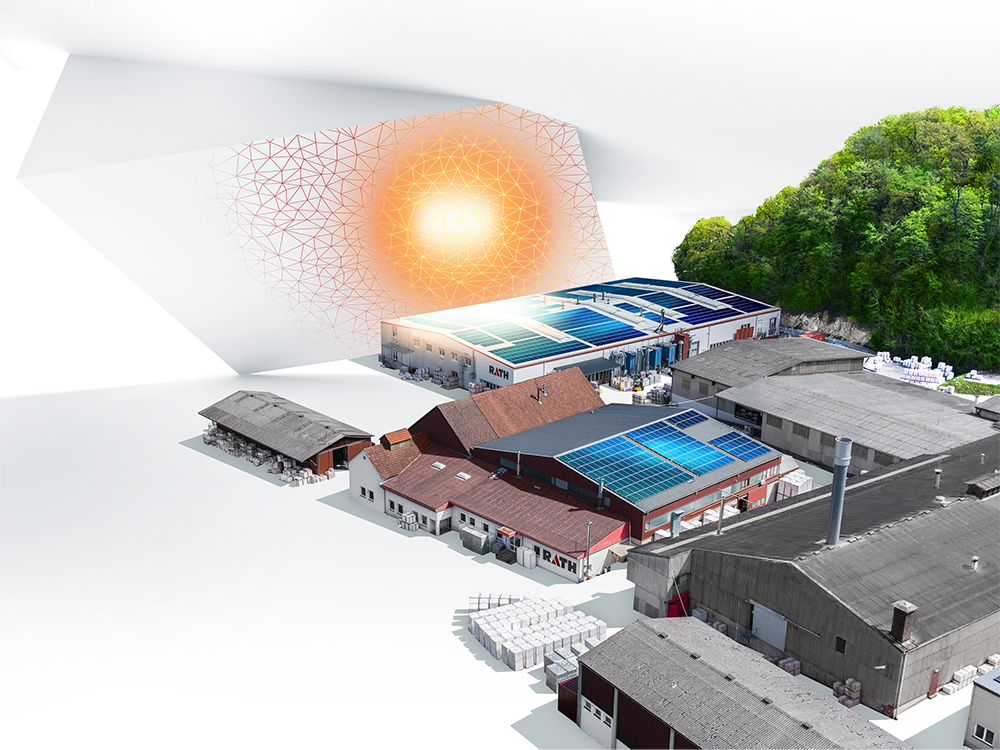 RATH uses a broad range of measures to reduce environmental impact
At RATH, active environmental and climate protection is a major focus: We continue to implement many initiatives and measures to reduce our company's ecological footprint while also supporting our customers in their efforts. For example, the efficient and resource-saving use of materials in the manufacture of our products is very important to us. Handling waste carefully and pushing recycling and the circular economy are top priorities to protect the environment to the greatest possible extent. Maintaining the service life of systems and equipment is another major focus.
RATH drives energy efficiency at production sites
Energy consumption is one of the most significant factors affecting the conservation of resources at RATH. The continuous improvement of energy efficiency at our seven RATH production sites worldwide (in Europe and the USA) is therefore of particular importance and we are constantly working on this as part of our internal energy audits. At the same time, we pay close attention to the ongoing reduction of emissions: Our energy management system has been expanded to include an internal emissions management system specifically designed for this purpose.
Photovoltaic system reduces CO2 emissions by 350 tons per year
The construction of a large-scale photovoltaic system at the Austrian production site in Krummnußbaum was our initial flagship project in terms of energy efficiency and emissions reduction: The 696 kWp photovoltaic system, installed on the roofs of the factory buildings, was first put into operation in 2020. Around 20% of the plant's daily electricity requirements have been covered by solar energy since then.
RATH is increasingly focusing on research & development to promote sustainability
Research and development play an important role at RATH. To anchor this even more firmly in the company, a separate department was established in 2021. It enables individual projects to be centrally planned, coordinated and accompanied during implementation. We're stronger together: When it comes to conducting fundamental and/or materials research, we cooperate with universities as well as other research institutions and industry associations.
One example of a successful sustainability project underpinned by research is the electrically heated vacuum sintering system for producing nitride-bonded silicon carbide, which was installed at the Krummnußbaum plant in Lower Austria in 2022. The electric operation of these two furnaces reduces CO2 emissions by around 70% compared to the previous gas-powered furnace, and enables the use of fossil fuels to be reduced to a minimum.
Significant energy savings have also been achieved at the RATH plant in Mönchengladbach: Optimizing the heat treatment process for fibrous materials has not only improved quality, but also reduced the energy required.
Supporting customers with energy-saving refractory solutions
As well as improving our production processes to optimize the economy and ecology of the manufacturing process, RATH is pushing ahead with product innovations, such as energy-saving refractory solutions for a wide range of industries. We support our customers intensively when it comes to environmental protection, both with these improvements and with innovations like our hot gas filter elements for filtering particle-laden industrial exhaust gases.
Strong focus on social and employee concerns
Social and employee concerns are as important to us as protecting the environment. We are not only committed to creating flexible and safe working conditions for our staff, but also to providing an environment where everyone can make the best possible use of their talents and develop them further. The RATH management therefore places great emphasis on development programs and training, as well as on the health of our employees.
You can find detailed information on this, on our environmental protection measures and on our activities to safeguard human rights and combat corruption and bribery in our sustainability reports below.