FOR THE IRON AND STEEL INDUSTRY
MATURE REFRACTORY SOLUTIONS
As a competent supplier of refractory solutions for the iron and steel industry, RATH is your first address to go to for the worldwide handling and coordination of refractory linings – whether for smelting or for heat treatment.
Your benefits:
Complete range of non-alkaline refractory materials for the production and heat treatment process of iron and steel
Individual, customized refractory solutions
Many years of know-how and comprehensive consulting expertise in iron and steel processing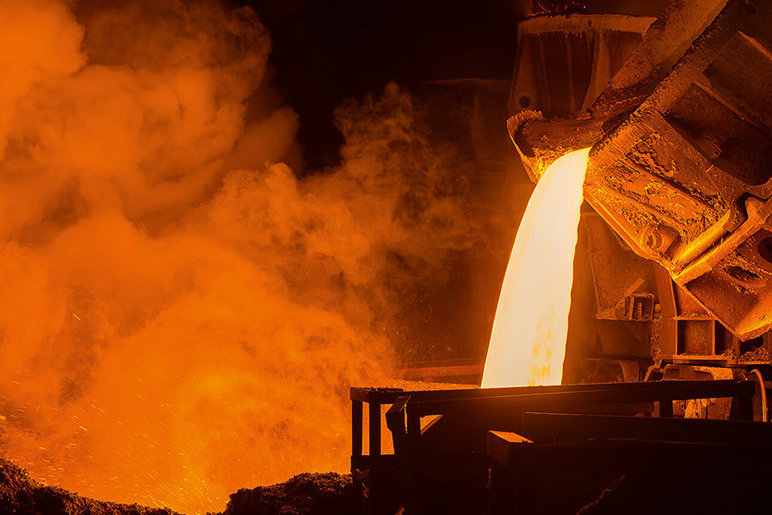 FROM SMELTING TO HEAT TREATMENT –
Refractory competence from one source
ENGINEERING
The basis of every lining concept is the heat transition, which will determine the optimum wall construction. Extensive knowledge of thermal and corrosive loads is required. To this end, we use modern heat transition calculation programs and software systems for the calculation of thermodynamic equilibria and phase diagrams. As a manufacturer, we have access to extensive databases, which are required for these calculations.
Upon request, we are also able to carry out economic calculations of refractory linings, taking material and energy costs into account, which provides customers with the support they need to make decisions.
Based on these data, we then design the optimal wall construction and provide a standardized construction drawing of the respective unit.
MATERIAL DELIVERY
RATH materials are made to order for customers and delivered directly to the construction site by experienced shipping companies according to agreement. No matter where in the world the construction site is, our logistics experts ensure reliable and punctual delivery.
ASSEMBLY MONITORING / SUPERVISION
In the case of installation by third-party companies, RATH provides the assembly supervision or construction supervision, respectively, for the refractory lining to ensure that the installation is carried out according to RATH's strict quality requirements.
ASSEMBLY
We realize construction sites both with our own staff and with first-class and reliable installation companies as subcontractors. RATH will be pleased to handle the coordination for you, so that you do not have to take care of the details!
We attach great importance to high-quality assembly equipment and assembly aids to ensure effective and quality delivery.
MAINTENANCE AND REPAIR
We monitor the performance of your refractory lining and provide the necessary maintenance to ensure safe operation of the equipment. We also offer ongoing predictive maintenance and repair.
Iron and steel production
Metals