FOR THE GLASS INDUSTRY
PREMIUM REFRACTORY SOLUTIONS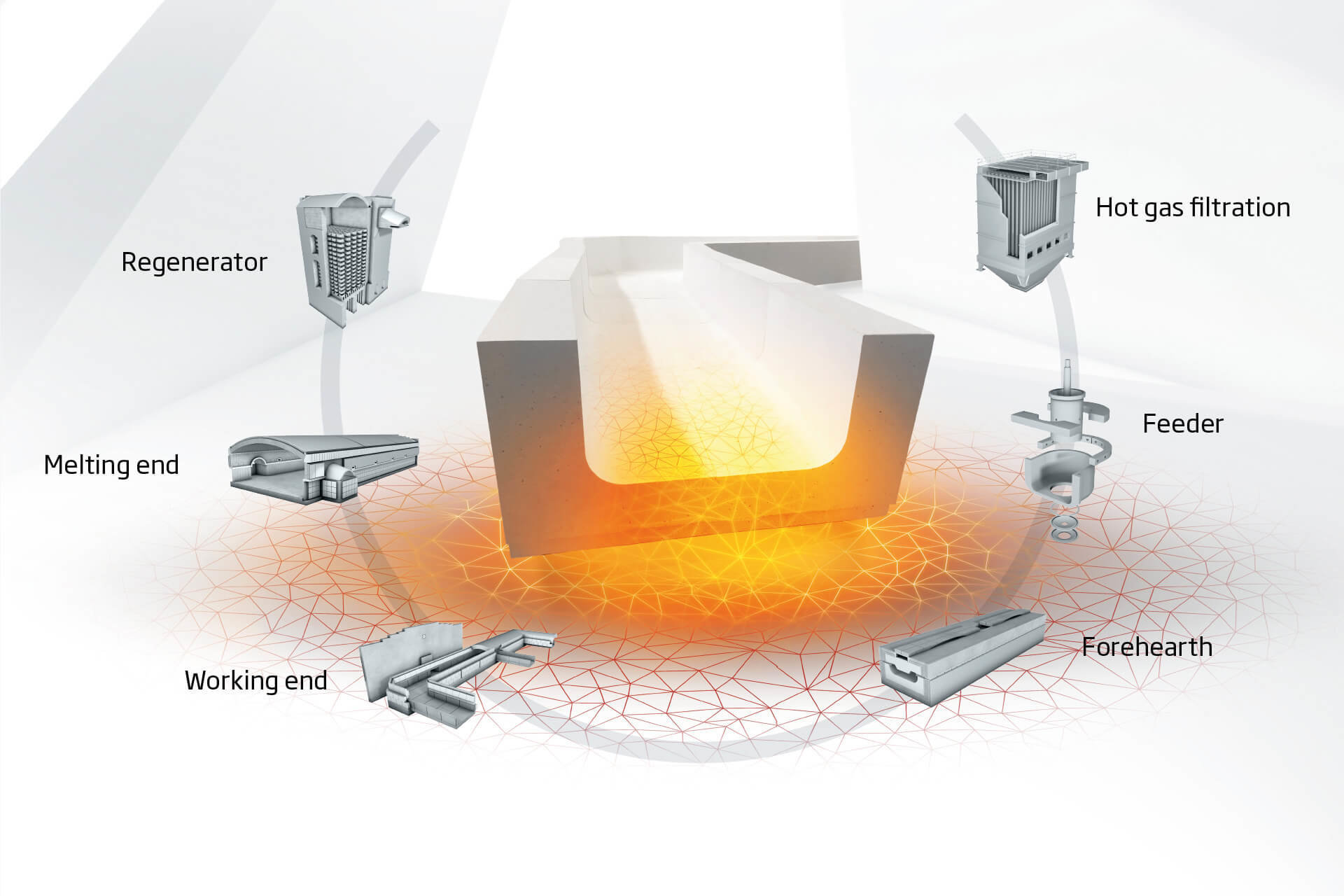 THINK HIGHER – The complete range of high-quality refractory materials – including the original feeder expendables and refractory formulas designed by Emhart Glass.
Your advantages:
• Premium refractory quality – for crystal-clear results
• Tailor-made solutions for your requirements
• Advisory expertise in industrial glass applications
• Expert know-how in hot gas filtration processes
OUR CRYSTAL-CLEAR GOAL: QUALITY
Expertise
For perfect glass processing with crystal-clear results, only high-purity raw materials are approved in purchasing and quality assurance for refractory parts at RATH. From refractory and insulating concepts to regenerators, melting tanks, forehearths, feeder expendables and hot gas filter elements, our application engineers ensure that every single component is absolutely true to size and meets the chemical and thermal requirements. In particular, the purity and surface quality of the components are top priorities for our refractory experts and are ensured by our certified staff in the RATH laboratories.
Our goal
We want to help you reduce your production downtime and enable you to become more competitive and sustainable with our refractory technology!
For melting tank construction RATH offers a comprehensive range of fireclay, andalusite, mullite, zircon-mullite, zircon-silicate and high-alumina products, as well as all types of thermal insulation products.
Complete Range
RATH products are suitable for all types of glasses, including soda-lime glass, barium crystal glass, borosilicate, and opal glass applications. Choose from a wide variety of refractory compositions to find the best material to reduce cleaning (blistering) after changing feeder expendables.
Contact us for your free of charge sample to test our qualities!
THE NEW FOURATH FEEDER EXPENDABLE SERIES
The further development of refractory compositions is a challenge that RATH is taking on with great commitment. This is also proven by a new product series: The FOURATH 4xx feeder expendable series is based on an optimized formulation, exclusively developed and produced by RATH. The product has been put through its paces in the RATH laboratories and has successfully passed the first glass factory trials over the last two years.
FIND OUT MORE
Our products
Our products have been developed to withstand the highest temperatures, as well as having the highest thermal shock and glass corrosion resistance.
As a system supplier, RATH offers complete refractory concepts for feeders and forehearths by carefully selecting the best formula depending on your type of production (long run vs. frequent job change):
• High-end refractory dense bricks for the entire glass melting process
• Channel and roof blocks manufactured from carefully selected raw materials
• Feeder expendables with high thermal shock resistance and low porosity to prevent cracking and blistering
• Zircon-mullite and fused-silica products for cold and hot installations
• Wide range of monolithic products, incl. mortars, luting cements, patch and ramming mixes
• Complete portfolio of IFB bricks from ASTM 20 to ASTM 34
• Wide portfolio of bio-soluble, RCF and polycrystalline fiber products and microporosity products
• Hot gas filter elements to denox, desox, dedust the flue gasses
Forehearth
There is a shortage of high-quality channel blocks on the market! To meet market demand, RATH has resumed production of forehearth 333 channel blocks, based on the original formulation developed by Emhart Glass, and has also developed new, premium zircon-mullite and high-alumina formulas which are now available for sale!
Cold and hot repairs
Extending the service life of a glass melting tank is always a major goal of the glass manufacturer! We can help you achieve the longest possible service life for your melter with our premium bonded AZS, zircon-mullite, high-alumina and fused-silica products!
ART GLASS
RATH has been developing and manufacturing high-quality refractories for more than 130 years. For the past 50 years, RATH has specialized in the production of glass pot refractories and provided the art glass industry with high-quality glass melting crucibles.
FIND OUT MORE
FILTRATION
Meet emission requirements in industrial plants. RATH is your premium partner for hot gas filtration. Achieve the cleanest results and save energy and costs with our ceramic filters.
FIND OUT MORE
KNOW HOW
Our highly qualified experts, engineers and technicians for industrial glass applications have the necessary expertise to develop the highest performing refractory materials – tailored to your individual requirements. We offer engineering services including pre-assembly drawings, bottom subdivision engineering, dry-lock refractory construction concepts (RATH-LOC) and heat transfer calculations.