Steel Times International
–
Newsletter
, October 2023
Act more sustainably: RATH supports its customers with energy saving refractory solutions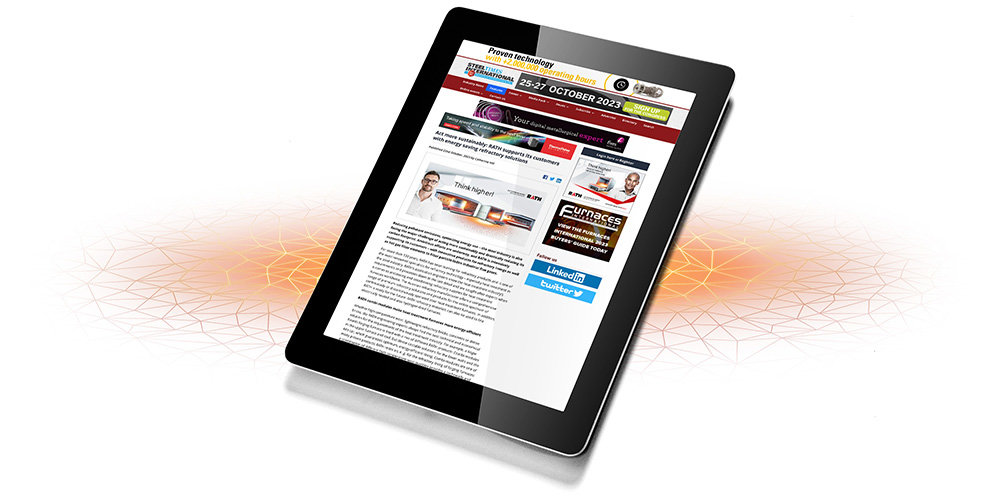 For more than 130 years, RATH has been burning for refractory products and is one of the most renowned specialists for refractory technology – especially heat treatment in the steel industry. RATH's application engineers know the heat treatment industry's requirements and processes down to the last detail and are sought-after experts when it comes to processing and coordinating refractory supplies for heat treatment furnaces worldwide. The Austrian refractory manufacturer offers a comprehensive range of premium refractory solutions and products for the entire spectrum of continuously or discontinuously operated steel heat treatment furnaces. In addition, RATH is ready for the future: RATH refractory materials can also be used to line electrically heated and also hydrogen-fired furnaces.
RATH combi-modules make heat treatment furnaces more energy-efficient
Whether high-temperature wool, lightweight refractory bricks, concretes or dense bricks, the RATH engineering experts always find the best technical and economical solution for the requirements of the heat treatment industry. For example, a bogie hearth forging furnace is lined with a mix of different RATH products: Combi-modules in the upper furnace and roof, but dense castable solutions for the lower walls and the kiln car, which guarantees optimum, energy-efficient lining. Combi-modules are one of many proven products RATH relies on, e. g. for the refractory lining of forging furnaces: a combination of different high-temperature wool qualities provides a technically and economically optimal solution. These modules are available according to specific customer requirements and are produced in a wide variety of shapes and sizes.
Increased production capacity for hot gas filter elements in Meissen
For many years, RATH has been developing innovative ceramic hot gas filter elements, which make it possible to filter particle-laden industrial flue gases at temperatures up to 1000 °C and to reduce emissions of nitrogen oxides. All resources, capabilities and know-how in hot gas filtration are pooled at the Meissen facility (Germany). This RATH research and production site is home to cutting-edge facilities for the manufacture of RATH's FILTRATH® hot gas filter cartridges and FILTRATH®CAT catalytic filter elements. This year RATH has doubled its production capacity for both catalytic and non-catalytic hot gas filter elements: As the only remaining European manufacturer of filter elements, RATH can produce up to 40,000 filter elements per year, depending on the required dimensions and quality. The new production line is running at the highest efficiency level.