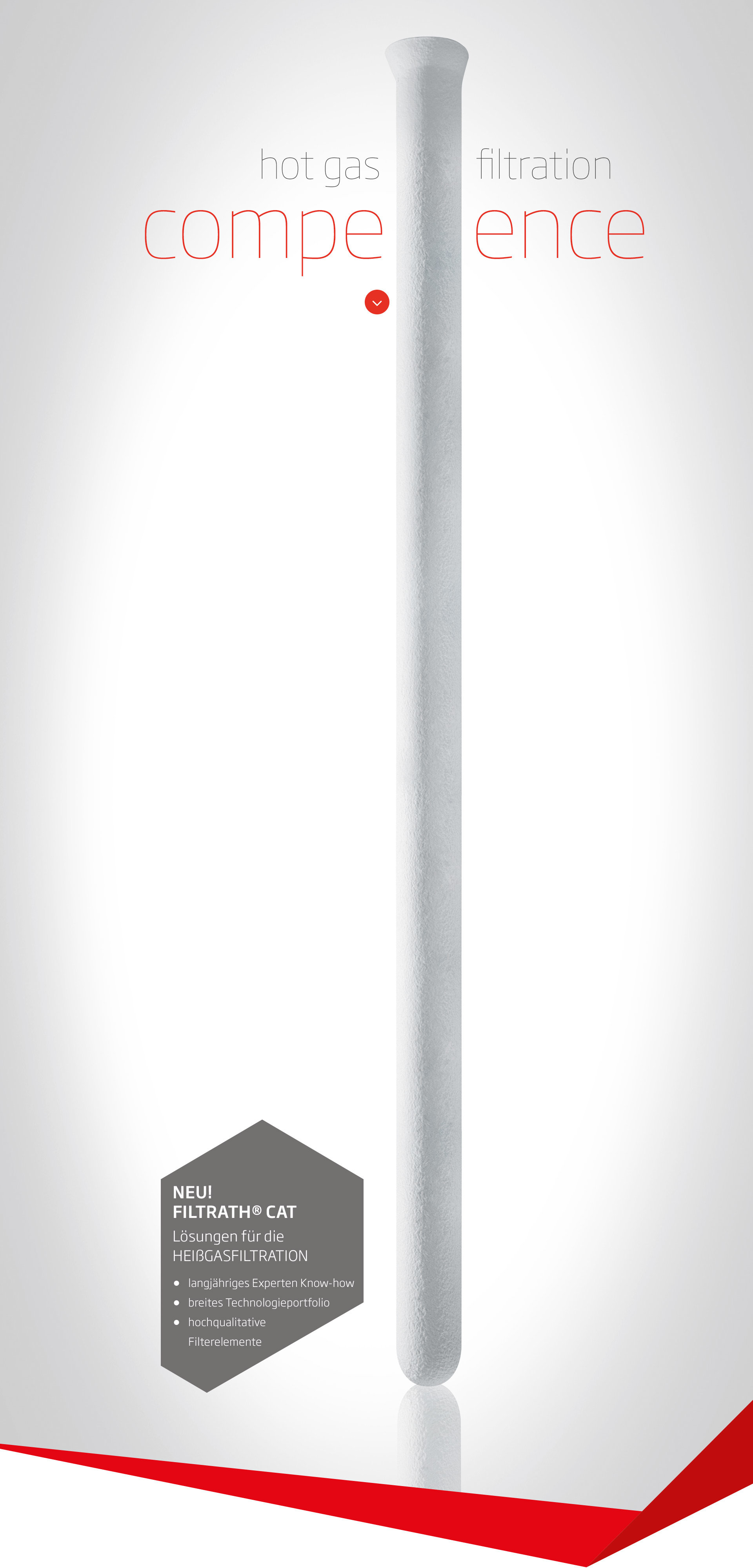 Hot gas filtration
WE ENSURE CLEAN AIR
Decades of manufacturing competence for the refractory product industry, especially in the field of high-temperature insulation wool, have resulted in sophisticated vacuum-formed products for high-temperature applications. The micro-porous ceramic material brings its properties to bear excellently in the field of filtering industrial flue gases.
NO COOLING OF THE FLUE GASES NECESSARY – THIS SAVES ENERGY AND MONEY
RATH has developed a hot gas filter cartridge system from this that replaces conventional textile filters at flue gas temperatures from 250 °C upwards. Cooling of the flue gases for filtering purposes is no longer necessary. RATH hot gas filter cartridges can be used at up to 1,000 °C.
VARIABLE LENGTH | 1 – 6 METERS
The most significant difference from other suppliers is the variable length of RATH hot gas filter cartridges. Thanks to a patented and proven system, filter cartridges of 1 to 6 meters can be produced. The installation can be done in form of single elements, if e.g. the installation height in the filter housing is limited.
ANY OPERATING TEMPERATURE | 240 °C – 1,000 °C
Other suppliers require adjusting the operating temperature of your system to the optimum temperature of the filter element. RATH hot gas filter elements have consistently stable and optimum filter characteristics over the entire temperature range and can therefore be used in your existing flue gas process without temperature adjustment.
• 250 – 1,000 °C for non-catalytic coatings (FILTRATH®)
• 250 – 420 °C for catalytically coated filter elements (FILTRATH®CAT)
CATALYTIC COATING | DEDUST, DESOX, DENOX
The perfect 3-in-1 solution consists in catalytically coated hot gas filter cartridges.
The catalytic coating together with the variable length results in multifunctional solution combinations: "3-in-1" pollutant mixtures (DeDust, DeSOx, DeNOx) can be controlled in a highly effective manner with a single system. So you filter dust and nitrogen from your flue gases in one step.
For you, this means fewer interfaces, reduction in the total plant area, and thus significant CAPEX and OPEX savings.
INDEPENDENT CONSULTING | YOUR KEY TO SUCCESS
A perfect product alone is not the solution yet. The experts from Rath Filtration advise you in the conception, planning and dimensioning of hot gas filter systems. For a filter element is really effective only when all system components are perfectly matched. We consider the application as well as the overall system and offer:
• Calculation and evaluation of the flow behavior
• Dimensioning of the economically optimal plant size
• Calculation of filtration speed to differential pressure
• Recommendation of the optimal configuration for your requirements